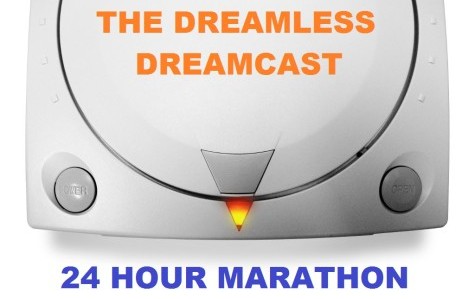 I can't believe it has already been three years.
As longtime readers of the site probably know, the Dreamless Dreamcast Marathon (and to a lesser extent the Sonic Marathon) started as little more than a 24-hour long writing exercise, composed of no less than twenty posts that ruminated on, sang the praises of, poked fun at, and complained about a wide array of classic games from my favorite console of all time.
However, it wasn't until this year that the marathon finally became the entertaining and conversational Dreamcast lovefest that I've always wanted it to be. Over the years, you readers/viewers have proven to me time and time again that this is one of the best avenues for convening with the world's best Sega Addicts, and this year's dedicated viewers reminded me why I love doing this so much. Combining with Scott's tireless dedication and the largest game count ever, this year's wild stream has reached the heights of insanity, exhaustion, fun, and communication that I've always hoped for.
Thank you to Scott for joining the fray, and thank you to everyone who stuck with us.
It was my pleasure, Josh!
This was the first marathon I took part in hosting. I've watched many, and indirectly marathons are the reason I now write for Sega-Addicts. So when I say that I was "excited," to co-host the 24-Hour Dreamless Dreamcast Marathon with Josh, it is very much an understatement. I really had no idea what I was in for. After spending 2 weeks getting my laptop set-up somewhat up to par, I honestly didn't even care whether or not I took part in the marathon due to how many technical issues I was running into. That said, all of the hassle was completely worth it thanks to everyone who joined Josh and me on this incredible journey into the depths of our sleep-deprived gaming addictions to celebrate Sega's last console.
What I'm saying is, this was all for you guys, and totally worth every minute spent online. Let's take a look at the photo album to see just how things went from 7am September 8th to 7am on September 9th with some unforgettable quotes in between.
EDIT: Also, keep an eye on this forum topic for more screen caps from the insanity, and even more nonsensical quotes in the near future.
We also want to take a second to thank everyone who tuned in:
Dr. Scottnik
Brett
Stevie
Anton
AlexBarbatsis
Shiggidy AKA: Doubledildopolis
VOTwinstick
Enkindured
TeheeBree
KJarosh27
VanishCat
NiteShadow
Wooah21/Tatokis – stayed with us the longest! Major kudos!
Blueprintadam
The best thing about our viewers was that everyone jumped into the stream a few times rather than just creeping in and leaving really quick. Thanks again to everyone who made this as enjoyable as it was. We can't wait until next year!