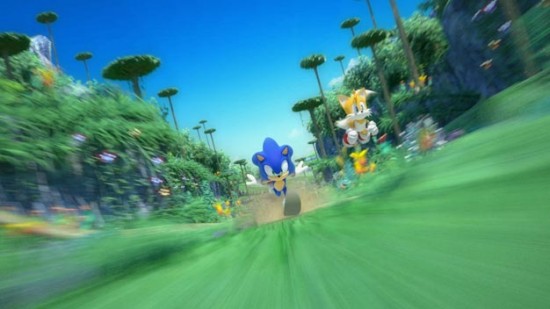 If you've been paying the slightest bit of attention to this site, then you are aware of our unabashed, almost obnoxious excitement over Sonic Colors.  It's almost surreal that the 2D Sonic game everyone was talking about has been almost completely overshadowed by the feverish curiosity and hope surrounding the new Wii title.  Could we finally have a 3D Sonic on our hands that's worthy of standing alongside its 2D ancestors?  The results so far are looking pretty damn promising, enough so that many sworn Sonic skeptics have accepted that the Sonic Cycle has finally been broken.
Sonic Colors Producer Takashi Iizuka apparently shares that confidence.  In a recent interview with Gamerzines, he divulged some pretty lofty promises.
"In Sonic Colours, the team looked back at previous Sonic games and looked at the pros and cons of each title, and they hope they have addressed all the goods and bads in Sonic Colours.

"We believe that this Sonic game is as good as or even better than the 2D Sonic games."
Wow.  Those are some big words.   I must admit that I'm pretty skeptical that they could surpass the quality of the 2D titles.  As excited as I am, it's just hard to imagine that Sonic's 3D endeavors could have made that huge a leap between Unleashed and Colors.  Iizuka also said that Colors is the best 3D Sonic so far, which is a promise I'm much more poised to believe.
What I do know is that November can't come soon enough.
[Source: Gamerzines]