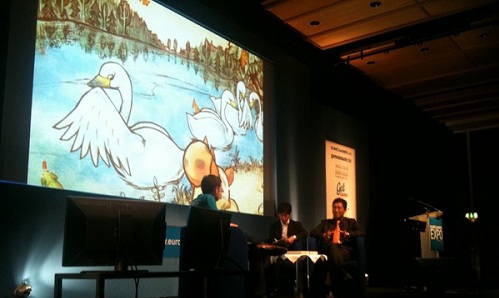 This year's Eurogamer Expo was a blast, with only the slight dampener of almost no stage presence from Sega except for two areas showing off the first Vanquish demo from a month or so back. The highlight of the show however was easily the developer session with legendary designer Yuji Naka, who gave an interesting interview regarding his new game Ivy the Kiwi? which is soon to be released on Wii and DS, and his life before and after Sonic.
Ivy the Kiwi was conceived because of Yuji Naka's own growth as a father following the birth of his first child, which in turn created this story about a lost kiwi bird in the search of his mother. Afterwards, the floor was opened up to audience questions. Of course, at this point he was bombarded with questions on how he currently feels about Sonic and Sega in general. This actually led to some interesting revelations, like how Sonic and Mario mixing together in games was actually his suggestion in the first place. He also revealed two projects for both Kinect and Move which were unfortunately canned, though it's at least exciting to see how quickly he jumped on the two platforms as an opportunity. (More questions were answered in show and in private at Eurogamer.net)
At the end of the talk, he then challenged the entire audience to rock paper scissors (JAN-KEN-PON!) in order to win a signed Ivy the Kiwi? picture book. I lost unfortunately, but four lucky challengers came away with a pretty fantastic prize. The rest of us simply got to spend an hour in the company of one of the most famous game designers of our generation.
He also apparently doesn't care for Burning Rangers. In case you were curious.
[Image source: Daniel Seto]