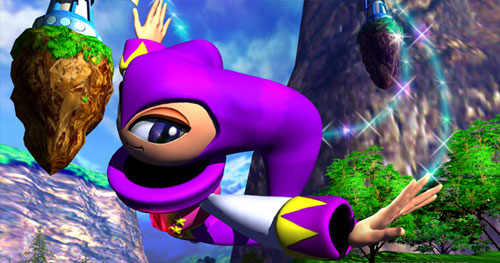 I've made no secret of my Yuji Naka man-crush, culminating in an epic rock paper scissors match to the death/mild-discomfort of standing up too long. So I'm damn excited to have come across a slight tease from the current issue of 'Famitsu' where the President of Japanese game publisher Kadokawa games, Yoshimi Yasuda, was being interviewed regarding two new projects coming from Suda 51 and Yuji Naka.
Yuji Naka's project is apparently an action title that takes place in the sky. Transcribed on 1up.com, he described the idea in more detail.
The action gameplay is what I'm focusing on the most with this project — interactivity is the most important attraction with any sort of game, and if that doesn't evolve, then games won't be everything they can be. Sonic was all about completely taking over the land, and Nights brought that same concept into the skies. I had always thought that action games that take place in the sky are too hard for players to cope with, but then I thought up a new method for dealing with it. That's how this project got started. If I had stuck around at Sega, then I might have used this concept to make a sequel to Nights!
That last line is probably one of the most infuriating teases of all time, especially since we did end up getting a Nights sequel and it wasn't very good. Still, we know what the man can do with games about flight, and we also know from the Let's Tap games that he can create some really spectacular ideas with very very simple controls, so there's absolutely no reason not to get excited. Right now. Do it. Flail your arms like crazy. IT WILL PLEASE HIM.
[Source: 1up]
.