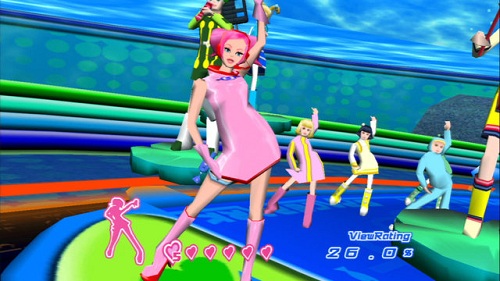 I know. What the hell were they thinking with Sega Bass Fishing? On the other hand, Space Channel 5.2 (Or Part 2, but that's a bugger to sound out) is exactly what I was hoping for with this series of digital reprints.
Space Channel 5.2 is of the 2nd game following the exploits of Ulala as she reports the news, dances, rescues hostages, indulges in shoot outs with curious looking aliens and dances some more. Part 2 is most infamous for featuring Space Michael as a hostage to rescue to later battle a singing robot. That would of course be Michael Jackson. A 500 year old Michael Jackson. Yep.
Sega Bass Fishing is about fishing for Bass. Probably.
Both games are set to arrive 'Early 2011', so look forward to those with the customary 720p visuals/trophies and all sorts we had from Crazy Taxi and Sonic Adventure. Sorry to all Skies of Arcadia holdouts. Hang in there!
[News and Image Source:Eurogamer]