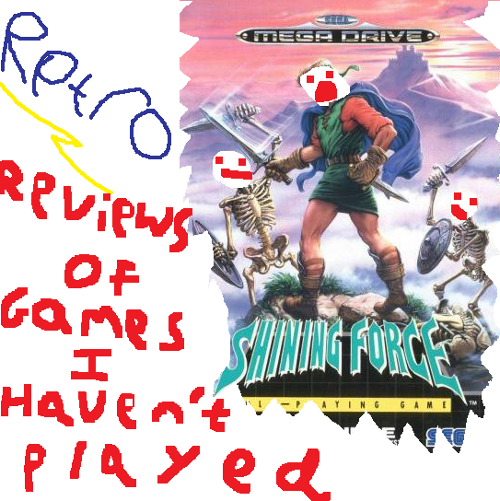 That's it. I'm tired of giving Sega publicity. I take all my time and effort to flame them and tell them how stupid and fucking awful at games they are, and what do I get? No response. What a crock. A crock of shit to be precise. So I have decided I am not going to review any Sega game ever again ever.
Wait. If I do that then I'll lose my platform to bitch and moan about shit on this website. Fuck. Well instead I'm going to subvert your expectations and do something no other person on the internet has ever done ever! I am going to be angry at an old school videogame! What a cowa-piece-of dogshit!
That's right! I'm going to take you back to the past, and before a time when I was born probably. And what a better game to start not playing, as Shining Force? Well there are better games to start off with but fuck it I already made the header image and I can't be bothered to open up MS Paint again so you're stuck with reading about this. So without further talking about shit, let's get onto Shining Force.
Well we all know how this review is going to go. It's a retro game for fucks sake. If you don't know what a retro game is then I'll explain that to you. Retro games are what happened before Call of Duty made warfare modern and games serious (which means brown). You can basically miss out on every game made before 2008. However if you must play a game that is more than half your age then for fucks sake don't make it a retro RPG which is what Shining Force is. I know this because I looked it up on it's wikipedia page. Who makes those anyways? Fucking losers with no life (IF YOU'RE READING THIS WIKIPEDIA, MAKE ME A WELL GOOD PAGE AND SHIT PLEASE THANKS BYE).
As we all know RPG's are all shit and I won't ever try them about because I know I won't like it. People say that this makes me seem like a stupid child but I think it makes me a sensible grown adult. Which I am. Even with a new RPG you have sexy anime babes, but with a retro game all I can do is stare at the pixels. I can't get turned on by pixels. And things I don't personally get turned on by are bad and scary.
Another thing about retro games in general is that they're all hard. Now you all know my opinion on hard games (they suck unless I can't do them). But retro games are even worse. Back in the old day's, arcade games were made to take nerds lunch money. This makes me madebecause A) I'm poor and jealous, and B) It should be me taking their fucking money. Did you like the way I said 'fucking' just then? Unnecessary swearing makes me cool.
Talking about unnecessary swearing, I forgot that this was a retro review! That means I have to swear a lot about old game design because that is original. What a cowa-piece-of-dogshit! I'm so irate right now! What a piece of arse cheese monkey dick fuck cunt clit shit. Is that enough stupid shit that isn't funny because someone already did it and was actually good and funny but I'm shit because I'm just a fucking rip off? I forgot what I was talking about, Shining Force sucks.
In conclusion I actually haven't said anything about the game. But who cares it's fucking old and no one can play old games anyways. I somehow wish you could though. Like I wish there was a way you could, emulate them. But that won't ever happen so fuck it, game sucks. Shining force gets an F for being a retro RPG.