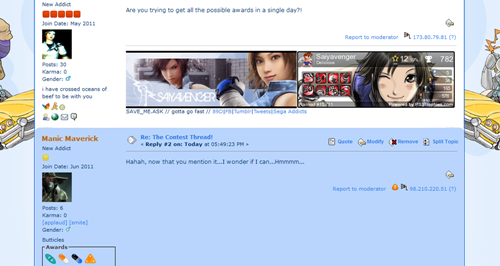 Hi, folks. If you didn't hear yesterday, our forums are back up and better than ever! And today, I just wanted to go into one of our new features, the awards system.
You've likely been on other forums in the past where you could earn awards for doing certain things on the site, which are displayed on your forum profile, and this is no different. We're launching with nine awards, and each month, we'll add to the list, based on suggestions we get from you, and whatever nifty ideas we can come up with.
Here's what you can earn right now by being a part of our community, after the jump!
—
I Have a Dreamcast/Mastered the System/MegaDriver/Rings of Saturn
-If you own a Dreamcast, Master System, Genesis/MegaDrive, or a Saturn, respectively, take a picture of them, and post it on the forum to get one of these.
Listener Question: Episode X
-Starting with Episode 56, if you get a listener question answered on an episode of the podcast, you'll get a badge for the episode it appeared on.
Fanartist
-Do a Sega Addicts fanwork, be it art, flash, cake, anything, and post it on the forum to earn this one.
Winning!
-Win a Sega Addicts contest, and you'll get this award as a bonus prize.
100 Posts
-Post 100 times on the forum to nab this one.
10 Threads
-Start 10 forum threads to get this one.
—
Pretty nice list to start off with, right? And it's only gonna get better, so join us and start earning these wonderful things!