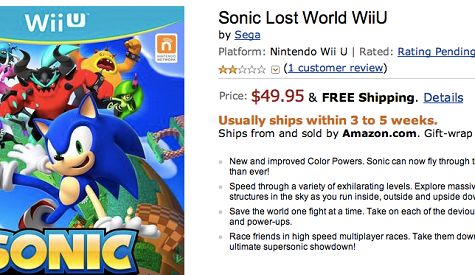 Oh, Amazon. You sneaky devils. This always reminds me of the good ol' days when magazines would have Sonic X-treme available for order as soon as the game was announced.
Now I'm not saying Sonic Lost World is going to get canceled or anything, but all these pages show are the price tags and no release date yet. Anyway, Amazon has listings for both the Wii U and the 3DS versions of Sonic Lost World for sale. Hit the jump to see the Wii U and 3DS listings in full.
[Source: Sonic Stadium]
I don't think anyone is going to be surprised by those prices. I would say they are pretty reasonable. I know I'm picking this up on 3DS only because I don't have a Wii U. Which one are you picking up? Let us know below!