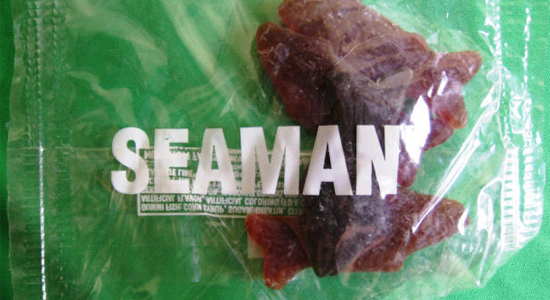 Those fellas over at GameSniped.com have spotted a delicious looking Sega promotional item on eBay. Right now, the bid is at $4.99 plus $3 shipping. What a steal for 10 year old candy! Plus, it comes with an inflatable Space Channel 5 character.
The seller does say not to eat the 10 year old Seaman, but we all know what the lucky buyer will do right away. No one can resist the temptation of 10 year old…
Oh, and GameSniped.com has also spotted an auction for the Sega Genesis game Greatest Heavyweights that comes with a mint condition, unopened Fruit Roll-Up that was packed in with the game. It appears that several Genesis games from the same era came with a free Fruit Roll-up including Gunstar Heroes. The auction has already ended and sold for $20 so don't get too excited about getting your hands on an old Fruit Roll-up. More games should come with free food these days.
[Source: GameSniped]