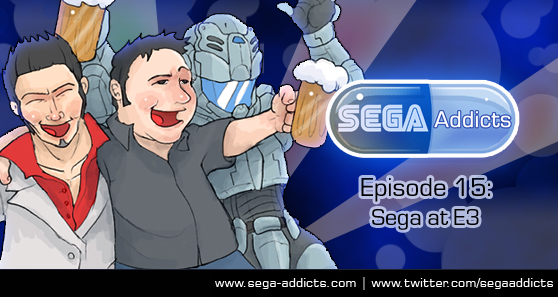 Sega Addicts Episode 15 is here. It's about E3, Eternal Champions, and other neat things. Jim wasn't able to record with us this week, but he did record some SEGA E3 thoughts for the podcast that you'll hear at the beginning of the episode. In his place we have Tom's brother, Mike, on again since last week's episode was destroyed and no one would ever get to hear his beautiful voice if we didn't let him on another episode.
Oh, and we've delayed the controller contest for another week. At the time of judgment we only had 9 entries and since we're giving away 5 prizes we'd like to have a little more to choose from. We are liking what we see from everyone so thanks to all who have entered so far!
Anyway, I feel this is probably the best E3 episode we've ever done and we're all mighty proud of it. Enjoy!
The outline:
00:00:00 – Jim's SEGA E3 Thoughts
00:04:46 – What you been eating and playing, fellas?
00:29:06 – Sonic Gems: Eternal Champions
00:54:59 – Main Topic: E3
01:44:11 – Listener Questions
02:06:10 – The real end of the podcast