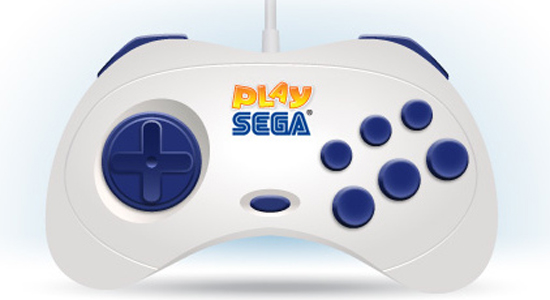 The Sega Addicts have been given five PlaySega USB controllers to give away from Sega. These controllers are only guaranteed to work with a VIP Membership on PlaySega.com but people have claimed to use them on their PS3's and other PC games, as well. The controllers are based on the original Sega Saturn controller design, which, you should already know is an amazing controller.
How to enter:
For the Sega Addicts podcast episode about controllers, Tom drew a character made out of a variety of Sega controllers and peripherals. What we want you to do is similar: Create a character/creature/robot made out of one or more Sega controllers or peripherals. It can be a creature based on just a Genesis controller or be made up of hundreds of different Sega consoles, controllers, etc. It can be a drawing, a sculpture, edited photos, 3d model, etc.
The specifications are broad so that you can be as creative as you want. We will be picking the five most creative submissions so remember to think outside the box and try and do something no one else will think of.
Post your images in the comments below using this code: [img]yourimageurl[/img] <- make sure the "img" in the brackets is lowercase.
The deadline has been delayed and is now June 22nd!
Thanks to Kellie from Sega for sending us the controllers!