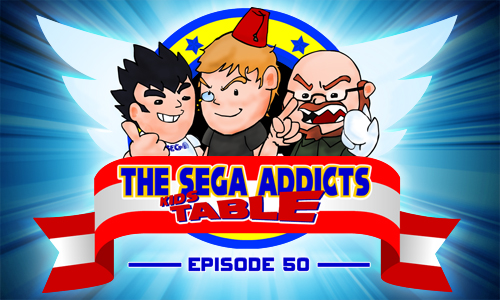 Are you ready? Because as of now it's time to break out the champagne and blow up the balloons for The Sega Addicts Kids Table's first milestone episode. That's right it's finally time for the cultural event so big, it cut the Olympics shorts and inspired a generation. But enough with the hype! It's finally time for the 50th Kids Table to reveal itself as Stevie, Josh, and John take on all the old Kids Table tropes and bind them into one new epic extravaganza.
Basically the gang revisit a lot of old favourite sections from the past year. Will one of your favourite items be revived? Maybe not. But if you don't like the sound of that we also reminisce on all the Sega goings on from our first year of podcasting. This includes Saga's current financial situation which we trace throughout the episode in hopes of finding the true meaning of love. Spoiler: We don't find it. But if you don't care about love and would still like to listen to this very special 50th episode of The Sega Addicts Kids Table then I think you know just what to do…
Or why not treat us by visiting our iTunes page? If you leave a review for us it'll make all our 50th Episode dreams comes true! Yay!
And remember you can still take part in Episode 51's Newey Needs to Knowey by answering the latest question through the Sega Addicts twitter. The question is about slaughtering your favourite Sega characters and putting them on a pizza. Yum! Also remember to fire up your VCR for next week's House of the Dead 2: Dead Aim movie commentary!
And thanks to Jiggerstick for the great header image and you for listening! I know it sounds mushy but we really do appreciate every one of our listeners. So thanks and enjoy! EPISODE 50 IS GO!