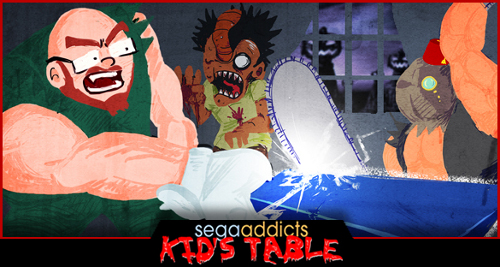 Halloween is over. The sun is ushering in a new Winter, and with it a calm flows through the world. Everyone is safe and there's nothing to fear anymore.
Or is there?
That's right, even though the scariest time of the year has been and gone The Sega Addicts Kids Table has decided to catch you off-guard and give you a good old spooking anyway. So once again for your entertainment is Stevie, Josh, and John talking about creepy things for a little over an hour. And yes- there will be more stories! Three in fact!
Scream! As Stevie talks you through the grossest Goosebumps book yet!
Squeal! As Josh reveals his intense magnum opus!
Sigh! As we never hear the end of last years story.
… but then shout! As John brings us yet another horrifying fan fiction instead!
Are you ready? Trust me. You won't be.
Download it here…IF YOU CAN HANDLE IT!!!
Or subscribe to our iTunes… IF YOU WANT TO!!!!
Also: mad props goes to jiggerstick for this amazing header, and we'll you next week for the start of our final episodes!