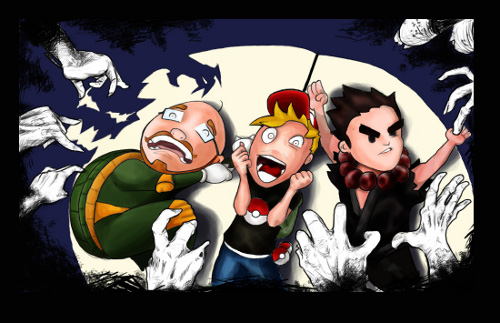 For Halloween your worst nightmare has returned… yes The Sega Addicts Kids Table are back! WHAHAHAHAHAHAHAHAHAHA!
That's right the break is finally over and Stevie, John and Josh have returned in a very special episode that'll be sure to make you soil your underwear. In this very spooky cavalcade of madness the gang have returned to gather round an imaginary camp fire to share a horrific trio of terrifying stories featuring evil twins, possessed DVD's and racist children's authors. We even end on a bang as John shows us what could possibly be the most ridiculous fan fiction ever written.
Ready for a fright to remember? Well settle up as we treat you to a Halloween Spooktacular like no other (except last years).
Download it here… IF YOU DARE!!!
Or go to our iTunes and subscribe… IF YOU'RE NOT TOO SPOOKED ENOUGH! Same goes for reviews! If you think you can stomach it then WRITE US ONE OR A MONSTER WILL GET YOU AHHHHHHHHHHH!!!
And ghoulish thanks goes out to Sega Addicts fan 100 for the awesome header image! You can view more of his stuff here!
OOOoooOooOooOOoooOOOH!!!
And we'll be back next Thursday for Episode 51! See you then!