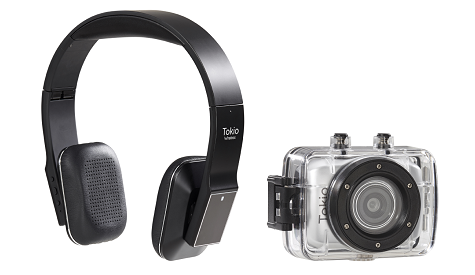 Sega Prize, the arm of Sega Amusements that deals with distributing prizes for their many family entertainment machines, has announced the availability of new Tokio Wireless and Tokio Active prizes.
Regular readers may remember that roughly a year ago we reported on the release of the Sega Tokio Tablet 2.0 and Tokio Techbook 1.0, which was available as a prize in Sega's Key Master machines. Tokio Wireless and Tokio Active will join the Tokio Tablet 2.0 in Sega's ever growing Tokio Technology range.
The Tokio Wireless is a wireless pair of headphones compatible with any bluetooth enabled device, with a generous 20 hour battery life and a built in microphone — which I assume is used to tell all your friends that you've just won a Tokio Wireless headset.
Tokio Active, on the other hand, is a sports camera that comes with a waterproof casing, suction cups, various mounts and even a lens hood. It has a two inch touchscreen — presumably for tinkering with camera settings. Sega Amusements' description of Tokio Active isn't clear as to whether or not the device is a camera or a camcorder, however it does say it can "capture" moments at 720p.
If we've said it once, we've said it a thousand times — Sega the videogame publisher and developer may be going through troubled times, but Sega Amusements seems to be doing better than ever.
[Source: Sega Amusements]