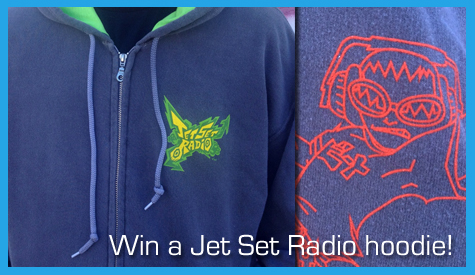 We've got a problem here at Sega Addicts headquarters: 10 Jet Set Radio hoodies and no one to wear them. After some brainstorming we've come up with the grand idea of running a contest where the 10 best entries will be rewarded with a Jet Set Radio hoodie to do with as they please. (We recommend wearing it to formal social gatherings)
How do you enter?
To enter all you have to do is create something that combines the Jet Set Radio aesthetic with any other Sega license. It can be a character from another Sega game drawn in the JSR style as if they were a character from the game, you could turn another game's logo into a JSR graffiti tag, remix a song from one game and turn it into something more JSR-sounding and any other idea you can think of. All you have to do is make sure and post the image or a link in the comments below and you're entered!
The contest will run from August 8th until midnight on August 22nd. On August 24th we will be announcing the 10 lucky winners of a Jet Set Radio hoodie! Good luck!