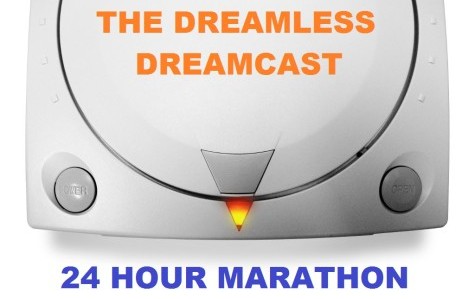 [UPDATE: And there you have it. The Third Annual Dreamless Dreamcast 24-Hour Marathon is officially complete! Thanks to everyone who joined us for all the insanity, hiccups and all. Keep an eye out over the next couple of days for Scott's full-fledged recap!]
Earlier this week, I announced in the post for the latest episode of the Dream(pod)cast that fellow cast member Scott Morrison and I will be bringing back everyone's favorite display of Dreamcast love and unbridled debauchery, the Dreamless Dreamcast Marathon. Starting at 7AM on Sunday, September 8th, Scotty Mo and I will be broadcasting through not one but two live Twitch.tv streams, drowning our viewers in downright offensive dialogue, feverish head-to-head races, and even Offspring singalongs (yes, that is actually in the works).
It all culminates at 7AM the following day–that sacred holiday we all reserve for the holy orange swirl–September 9th. After the jump you'll find a tentative schedule of the games that Scott and I will be digging into over the course of one 24 hour period. These games are subject to change, but if there's a certain game you're eager to see us play, check out the schedule to see if it's in the running. If you have any suggestions or requests, please stop on in at the forums to make your voice heard!
                     THE DREAMLESS DREAMCAST MARATHON SCHEDULE
| | | |
| --- | --- | --- |
| TIME | SCOTT | JOSH |
| 07:00:00 AM | KICKOFF | KICKOFF |
| 7AM—8AM | Sonic Adventure | Sonic Adventure 2 |
| 8AM—8:45AM | Marvel Vs. Capcom | Power Stone |
| 8:45AM—9:30AM | Slave Zero | Maken X |
| 9:30—11AM | FREESTYLE | Space Channel 5 |
| 11AM—12PM | Crazy Taxi | Crazy Taxi 2 |
| 12PM—1PM | Vigilante 8: 2nd Offense | Metropolis Street Racer |
| 1PM—2PM | Typing of the Dead | Typing of the Dead |
| 2PM—3PM | Jet Grind Radio | Cannon Spike |
| 3PM—4PM | Mars Matrix | Ikaruga |
| 4PM—5PM | Sega Marine Fishing | Ecco the Dolphin |
| 5PM—6PM | Zombie Revenge | Zombie Revenge |
| 6:30PM—8PM | Shenmue | Shenmue |
| 8PM—9PM | Blue Stinker | Illbleed |
| 9PM—10PM | FREESTYLE | Grandia II |
| 10PM—11PM | Chu Chu Rocket | Chu Chu Rocket |
| 11PM—12:30AM | Resident Evil Code Veronica | Resident Evil Code Veronica |
| 12:45AM—1:30AM |  Marvel Vs. Capcom 2 | Project Justice |
| 1:30AM—3AM | FREESTYLE | FREESTYLE |
| 3AM—4AM | MDK2 | Power Stone 2 |
| 4AM—5AM | Soul Calibur | Soul Calibur |
| 5AM—6AM | Dynamite Cop | Spawn: In the Demon's Hand |
| 6AM—7AM | Toy Commander | Toy Commander |
| 7AM, 9/9/13 | HAPPY DREAMCAST DAY | HAPPY DREAMCAST DAY |