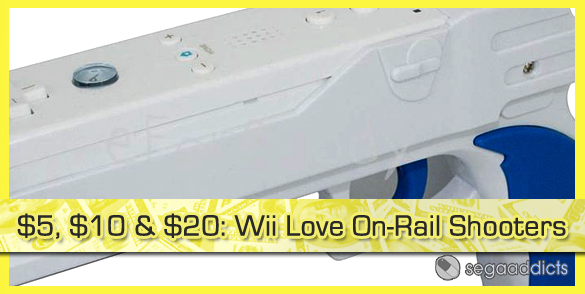 Do you like buying Sega games? Do you often find yourself buying games for your collection in replace of food and then eating the paper manuals because you're so hungry?
Well, my new regular feature "$5, $10 and $20" can help you out! Every month, I'll be highlighting three games that cover a variety of price ranges so you can add games to your collection without breaking your budget. These three games will often follow a theme and give anyone who has an extra $5 a month or more a few games to check out.
This month, I'll be highlighting a group of on-rail shooters for the Nintendo Wii including a collection of Sega arcade classics, a console exclusive sequel to a classic arcade series and a port of one of Sega's more recent arcade light gun shooters. Hit the jump to read on!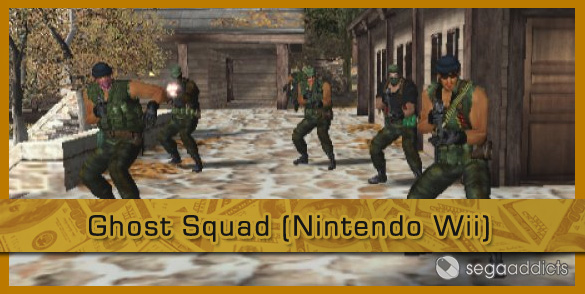 Ghost Squad
Platform: Nintendo Wii
Developer: Sega AM2, Polygon Magic
Publisher: Sega
Year Released: 2007
Amazon.com Price: $3.00 – $7.00
In the arcades, Ghost Squad always felt like a spiritual successor to Sega's Virtua Cop games. It took the core experience of their early light gun games and evolved the gameplay by adding depth with multiple weapons, a wealth of alternate routes and side-missions that involved disarming bombs, saving hostages and more. It seems the chemistry for Ghost Squad worked as the series has received two arcade-only sequels, quite an impressive feat for an arcade game in this day and age.
Polygon Magic's port of the arcade game to the Nintendo Wii is just as good as the original and showed early on in the Wii's life that this was a system that could do justice to arcade shooters. While the game can technical be beaten in about 30 minutes, there is quite a bit to do and unlock after your initial play through. With tons of weapons, modes and alternate routes, there's enough to keep anyone busy for hours. Plus, with the addition of some four-player party modes, this is a game you can be sure you'll be pulling out from time to time during gaming sessions with friends and family.
Should you buy it?: At the cheap price you can get this game now, the only reason I wouldn't recommend Ghost Squad is if you despise light gun shooters (and you call yourself a Sega Addict?). Sure, it's short, but arcade games are all about their pick-up-and-play nature and for $5 there's tons of replay value in this commendable arcade port.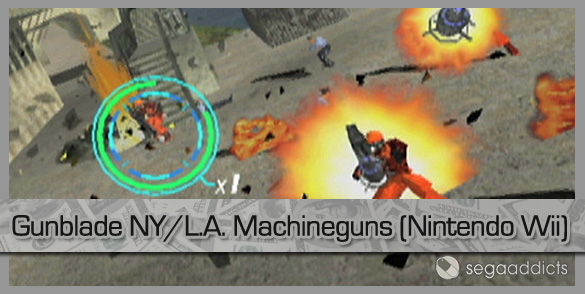 Arcade Hits Pack: Gunblade NY and L.A. Machineguns
Platform: Nintendo Wii
Developer: Sega
Publisher: Sega
Year Released: 2010
Amazon.com Price: $6.00 – $15.00
When this Arcade Hits Pack was initially announced, I was hoping to see Sega continue the series with more collections of their past arcade games that never made it to a home console. Unfortunately, that didn't happen but at least we got this one with Wii ports of Gunblade NY (1996) and L.A. Machineguns (1998).
It's obvious to see why these games were packaged together as they both share very similar gameplay, you tagging along for a ride on some kind of airborne vehicle as you constantly gun down android enemies with your barrage of infinite bullets. They even both reference an American city in their name!
If you've played either of these games in the arcade, you know that they both are high octane experiences with non-stop action, vibrations and noise blaring at you from all sides. While, the Wii port can't quite hold up to the arcade games' tactile thrills, it's still a great port of the originals and the only way you can play these at home, minus purchasing the actual cabinets. Still, this package is a little disappointing as the developers didn't do much beyond giving you the short but sweet campaigns. There's a couple score attack modes and online high score lists but when compared to Polygon Magic's Ghost Squad port, it leaves something to be desired.
Should you buy it?: Unlike Ghost Squad, I only recommend this collection to diehard fans of the genre or one of these particular games. With so little content, you can speed through both games in under an hour with the only thing keeping you coming back is attempting to beat your high-score.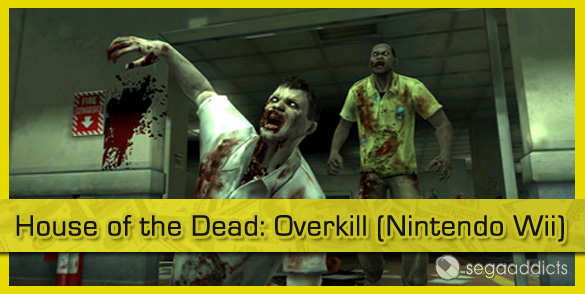 House of the Dead: Overkill
Platform: Nintendo Wii
Developer: Headstrong Games
Publisher: Sega
Year Released: 2009
Amazon.com Price: $12.00 – $22.00
Sega was one of the few publishers willing to take a gamble on the Wii and release games aimed at an older more mature audience. House of the Dead: Overkill is the epitome of that with a game that achieves its Mature rating not only from gore and violence but also from the extreme amount of expletives you'll hear throughout the campaign's dialogue. This game didn't get into the Guinness Book of World Records for nothing.
With the tone aside, Overkill is the first House of the Dead game ever developed exclusively for a home console and developer Headstrong Games did an amazing job of taking the arcade series' formula and transitioning it for console gaming. The campaign is a little longer than a traditional arcade shooter, with a deep combo system and an upgrade system that allows you to purchase new guns and upgrades as you progress. The visuals look amazing on the Wii as well, capturing the grindhouse style it's going for with a great soundtrack and dust and scratches on the screen.
Overall, House of the Dead: Overkill was a stunning success for Sega at creating an original title for the Wii that was perfect for the system. Whether it was a financial success is hard to know, but it did result in several spin-offs with an expanded port for the Playstation 3, a PC port that added Typing of the Dead-style gameplay, and a mobile game that does the name justice.
Should you buy it?: Yes, unless you're easily offended. House of the Dead: Overkill stands as one of my favorite games in the series and one of my favorite games in the entire Wii library. If you have a Playstation Move then it would be worth tracking down the PS3 version, but since the Wii version gives you the light gun experience with the standard controller, it's the cheaper and easier version to track down.
Previous Posts in this Series